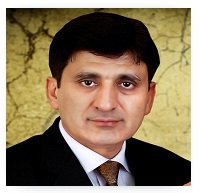 M. Kamran Khurshid
Chief Executive
KING ENTERPRISES provides top Custom clearing agent services provider in Islamabad, Rawalpindi, Karachi, Sialkot, Lahore, Peshawer, Faisalabad, Custom Clearance Expert specially for construction machinery like excavators, bulldozer, wheel loader, Road rollers, truck mounted cranes, rough terrain cranes, fork lifter etc. ,Door to door International cargo delivery, ATA carnet clearing services, CPD (Carnet De Passage) clearing services, Best custom house agent services provider in Islamabad, Rawalpindi, Karachi, Sialkot, Lahore, Peshawer, Faisalabad, Freight forwarding by air and sea, Shipping services, Road transportation services,
Packer and Mover, shifting services, and world-wide (Liaison) to every imaginable destination. We provide the unique solutions to the unique global needs. We have formed close working partnerships with all its customers, who rely on us not only for On-Time-Delivery but also for comprehensive flexible solutions for their goods.
How flexible can we be? How can we give more of a competitive edge? It's really up to you. To stay ahead of the competition you have to be more responsive to your customers and we can help by being more responsive to you.
We have the flexibility to adapt to your services, to your product, and your requirement pattern. It is a part of what we call customization i.e. getting to know your business and putting our extensive resources at your disposal.
In short customization means doing whatever if takes to solve your custom clearance, freight forwarding, bonded carrier, shipping, relocation,Mover and packer, Office shifting, home shifting, Packer and Mover, and Road transportation needs.
Our destinations
Our Services Are Aimed At Facilitating The Organization, Multinationals, Industries, Diplomats, Embassies, families, Government Departments , International Freight Forwarders, Movers and Packers. for Shifting / Moving of Goods
Mature and Well Trained Staff Having the Capability of Handling the Consignments of any Size and magnitude.
Exemplary and Personalized Services and Special Expertise for Custom house agent, Custom Clearance & International Freight Forwarding, Packer and Movers, Relocation, Shifting, Road Transportation, Mover and Packers, & Project Handling Concern.
Advisory Services to Our Clients.
Reasonable Services Charges.
With Affordable Charges, Fast & Efficient Customs Clearing Services